Free guide
Embedded Voice by Enreach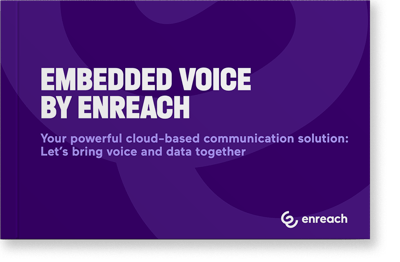 Learn all about the different user interfaces, functionalities, as well as solutions
for management and monitoring that are available. Get acquainted with this
powerful voice communication software and see for yourself what it can do
for the growth of your business.
Embedded Voice ensures that every voice connection of your organisation is recognised, including every endpoint such as:
Mobile subscriptions
Soft phones
Hard phones
Unified communication applications
Smartphone apps


Download our guide by submitting your email
Enreach


WE CREATE CONTACT MAGIC

Enreach on eurooppalainen yhtenäisen viestinnän ratkaisuja toimittava yritys. Edistämme avointa yhteistyötyyliä, joka tekee koko yrityksen ja pienten tiimien välisestä viestinnästä todella saumatonta. Tuomme juuri oikein mitoitettua teknologiaa kaikenlaisten ja -kokoisten yritysten saataville ja autamme päivittäin niin isoja palveluyrityksiä kuin yksittäisiä yrittäjiä ja tukkukauppiaitakin.

Me teemme teknologian, yhteydenpidon ja tuottavuuden yhdistämisestä helppoa. Eri alojen yrityksillä on erilaisia vaatimuksia yhteydenpitoon työntekijöidensä ja asiakkaidensa kanssa. Meidän tuotteemme ja palvelumme yhdistävät ja optimoivat näitä eri kontaktipisteitä, mikä antaa ihmisille mahdollisuuden olla entistä tuottavampia. Enreach auttaa yrityksiä saavuttamaan täyden potentiaalinsa.

Ymmärrämme, että tänä päivänä menestyäkseen yritys tarvitsee oikeanlaisten ihmisten lisäksi oikeanlaiset taustajärjestelmät. Meidän avullamme yrityksesi henkilöstö saa itsestään parhaat tehot irti.