A modern mobile service
for your business
Improving the customer experience, increasing additional sales and the efficiency of your business require a more modern approach to mobile subscriptions
GET A DEMO
How could Voice for Mobile subscriptions help my business?
By replacing your traditional mobile subscription with a more flexible, cloud-based solution you can:
Bring mobile calls into the heart of your business process and strengthen your connection with customers
Improve efficiency and engagement with cutting edge call handling features
Spot opportunities earlier and generate more sales by linking call data to behavior data
Have more personalized customer conversations by integrating mobile call data with your CRM and sales systems
Choose the best or most affordable network for customer's needs thanks to our network agnosticism in Finland
Bring mobility to your modern Microsoft Teams environment
Why choose Enreach?
Frictionless: Connect mobile calls directly into your business processes, never get disconnected from a customer or miss an important call or lose call data because it happened on mobile.
Full reporting: Automatically feed all customer call data and call activities, including calls from mobile numbers, and to your preferred CRM with API's, including Salesforce or Microsoft D365.
Unique: No other operator offers end-to-end services and independent network coverage in the same package
Value: Get high-speed, unlimited data with no caps
Modern coverage: Our subscription supports 4G, 5G, and wifi
Creating contact magic
Never miss a call
Research shows that businesses lose up to €100M in potential sales each year due to missed calls. A further 85% of missed calls never call back. With an Enreach mobile phone plan your business is equipped to answer more calls.
If you're away from the desk, can't pick up or are on another call Enreach gives you all the call handling options you need. From intelligent routing to personalised call holding, smart call back and more, Enreach gives you the tools to maximise the value of every call to and from your business.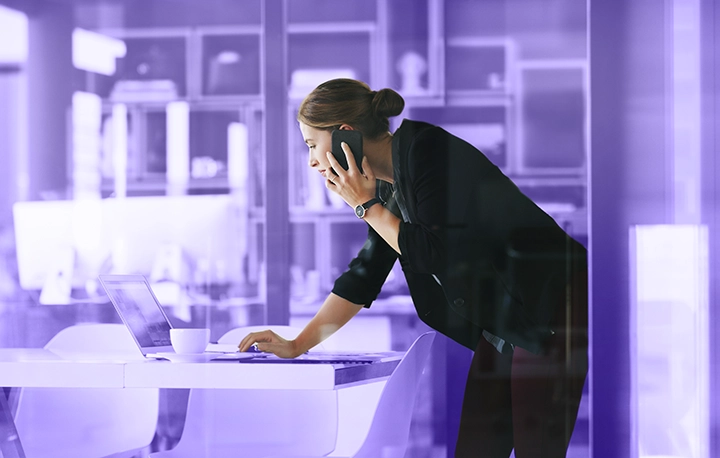 There when you need us, invisible when you don't
Interested to know how we work?
Whatever your communications needs are, we have a solution to transform how teams collaborate, customers succeed and businesses work. Let's have a chat together so we can further discuss your needs - we love to meet exciting, new people.
Get in contact