Our most popular guide got even better
The Future of Customer Service Report
From cost to growth driver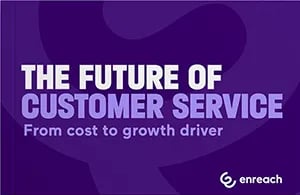 We have updated our most popular guide "The future of customer service". We understand the importance of providing exceptional customer service and we want to ensure that your team is equipped with the knowledge and skills to serve your customers better. And in today's world that means understanding how AI will be part of great customer experience. The future of customer care is here, and it's powered by AI.
Thoughts and findings are there to help customer service to meet people as human beings - openly, humanly, and with emotion.
Main topics of this report:
1. Customer service mega trends and newest researches from the top research companies.
2. Customer service's ability to drive highly valued and timely add-on sales.
3. Emotional intelligence and other top future knowledge in customer service.
4. Traditional customer service versus artificial intelligence. Will customer service representatives face totally new type of jobs and tasks?


Download the report by submitting your email
Enreach


CREATE CONTACT MAGIC ON PURPOSE

Enreach for Enterprises (part of Enreach Group) is a European-based unified communications provider championing a style of open collaboration that makes contact between business and small teams magic. Putting right-sized technology in reach of every kind of business—no matter the size—is what we do every day for entrepreneurs, wholesale partners and service providers.

We make business technology, connectivity and productivity integration easy for organisations as they grow. Businesses in different industries have requirements for staying in contact with their employees and customers. Our products and services optimise these contact points allowing people to reach new levels of productivity. Enreach is not just our name, it embodies the way we enable businesses to work.

Because we understand that in the new normal, reaching the potential of what fuels business success depends on having the expertise and underlying systems to make your people their most productive.