Free guide
Flows by Enreach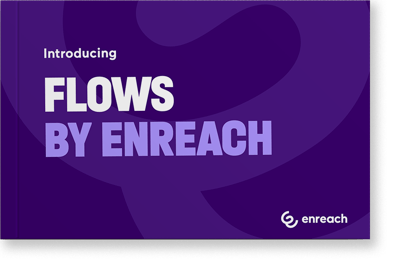 Our free guide: Flows brings together design, execution and analysis.
Streamline your sales and marketing efforts with our automated solutions with Flows. E-mails, landing pages, text messages, newsletters, campaign content and much more… all gathered in one simple program.


Key features:
Add emails, sms, webtracking, sign-up forms and analytics to your sales call activity.

Build a lead database with all data about each lead from across data sources like website, CRM system and external data enrichment sources.
Download the guide by submitting your email
Enreach


CREATE CONTACT MAGIC ON PURPOSE

Enreach for Enterprises (part of Enreach Group) is a European-based unified communications provider championing a style of open collaboration that makes contact between business and small teams magic. Putting right-sized technology in reach of every kind of business—no matter the size—is what we do every day for entrepreneurs, wholesale partners and service providers.

We make business technology, connectivity and productivity integration easy for organisations as they grow. Businesses in different industries have requirements for staying in contact with their employees and customers. Our products and services optimise these contact points allowing people to reach new levels of productivity. Enreach is not just our name, it embodies the way we enable businesses to work.

Because we understand that in the new normal, reaching the potential of what fuels business success depends on having the expertise and underlying systems to make your people their most productive.