Free guide
Flows by Enreach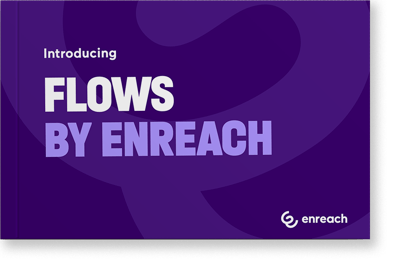 Our free guide: Flows brings together design, execution and analysis.
Streamline your sales and marketing efforts with our automated solutions with Flows. E-mails, landing pages, text messages, newsletters, campaign content and much more… all gathered in one simple program.


Key features:
Add emails, sms, webtracking, sign-up forms and analytics to your sales call activity.

Build a lead database with all data about each lead from across data sources like website, CRM system and external data enrichment sources.
Download the guide by submitting your email
Enreach


WE CREATE CONTACT MAGIC

Enreach on eurooppalainen yhtenäisen viestinnän ratkaisuja toimittava yritys. Edistämme avointa yhteistyötyyliä, joka tekee koko yrityksen ja pienten tiimien välisestä viestinnästä todella saumatonta. Tuomme juuri oikein mitoitettua teknologiaa kaikenlaisten ja -kokoisten yritysten saataville ja autamme päivittäin niin isoja palveluyrityksiä kuin yksittäisiä yrittäjiä ja tukkukauppiaitakin.

Me teemme teknologian, yhteydenpidon ja tuottavuuden yhdistämisestä helppoa. Eri alojen yrityksillä on erilaisia vaatimuksia yhteydenpitoon työntekijöidensä ja asiakkaidensa kanssa. Meidän tuotteemme ja palvelumme yhdistävät ja optimoivat näitä eri kontaktipisteitä, mikä antaa ihmisille mahdollisuuden olla entistä tuottavampia. Enreach auttaa yrityksiä saavuttamaan täyden potentiaalinsa.

Ymmärrämme, että tänä päivänä menestyäkseen yritys tarvitsee oikeanlaisten ihmisten lisäksi oikeanlaiset taustajärjestelmät. Meidän avullamme yrityksesi henkilöstö saa itsestään parhaat tehot irti.