Free guide
How to choose the best Outbound solution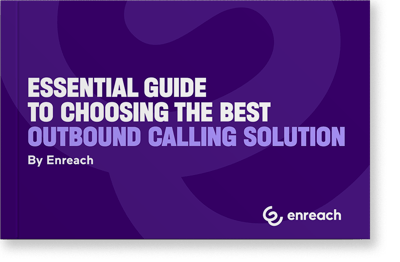 With an Outbound Calling Solution you can significantly improve the productivity, efficiency, and customer experience of your sales operations.
But how do you choose the right vendor?
In this guide, you'll find:
10 key questions to ask yourself
What features to look for in an outbound calling solution
How one of the largest Telco providers with over 150 million customers improved their outbound efficiency by 95% with Outbound by Enreach
A 10-point checklist for evaluating a vendor
Download the guide by submitting your email
Enreach


WE CREATE CONTACT MAGIC

Enreach on eurooppalainen yhtenäisen viestinnän ratkaisuja toimittava yritys. Edistämme avointa yhteistyötyyliä, joka tekee koko yrityksen ja pienten tiimien välisestä viestinnästä todella saumatonta. Tuomme juuri oikein mitoitettua teknologiaa kaikenlaisten ja -kokoisten yritysten saataville ja autamme päivittäin niin isoja palveluyrityksiä kuin yksittäisiä yrittäjiä ja tukkukauppiaitakin.

Me teemme teknologian, yhteydenpidon ja tuottavuuden yhdistämisestä helppoa. Eri alojen yrityksillä on erilaisia vaatimuksia yhteydenpitoon työntekijöidensä ja asiakkaidensa kanssa. Meidän tuotteemme ja palvelumme yhdistävät ja optimoivat näitä eri kontaktipisteitä, mikä antaa ihmisille mahdollisuuden olla entistä tuottavampia. Enreach auttaa yrityksiä saavuttamaan täyden potentiaalinsa.

Ymmärrämme, että tänä päivänä menestyäkseen yritys tarvitsee oikeanlaisten ihmisten lisäksi oikeanlaiset taustajärjestelmät. Meidän avullamme yrityksesi henkilöstö saa itsestään parhaat tehot irti.